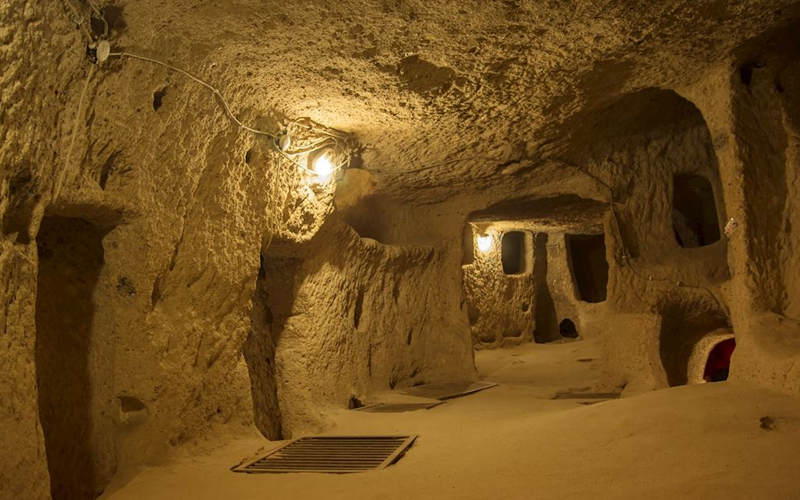 Welcome to Kaymakli Underground City, a remarkable destination that takes you on a journey into the hidden depths of Cappadocia's rich history. Situated beneath the surface, Kaymakli is an expansive underground city that offers a fascinating glimpse into the ancient civilization that once thrived in this region.
Descend into the depths of Kaymakli and discover a labyrinth of interconnected tunnels, chambers, and passageways that span multiple levels. Built thousands of years ago, this underground city was ingeniously designed to provide shelter, security, and a thriving community for its inhabitants.
As you explore Kaymakli, marvel at the engineering prowess and architectural ingenuity that allowed this subterranean complex to exist. Witness the impressive ventilation systems, the well-planned living quarters, and the ingenious infrastructure that supported daily life in this underground sanctuary.
Step into the past as you navigate the narrow corridors and visit the various rooms that served different purposes, including storage areas, kitchens, communal spaces, and even places of worship. Imagine what life was like for the people who sought refuge within these underground walls, and gain a deeper understanding of their resilience and adaptability.
Kaymakli Underground City is a testament to the region's tumultuous history and the resourcefulness of its inhabitants. It offers a unique opportunity to delve into the mysteries of the past and gain insights into the daily lives, customs, and traditions of those who sought shelter underground.
Beyond its historical significance, Kaymakli provides a sense of awe and wonder. The dimly lit passageways, the cool and damp air, and the eerie ambiance create an atmosphere that is both captivating and surreal. This destination appeals to history enthusiasts, culture aficionados, and those with a thirst for exploration.
Visiting Kaymakli Underground City is an immersive experience that transports you back in time and offers a glimpse into a hidden world beneath the surface. Traverse the intricate network of tunnels, absorb the history that permeates the air, and let the stories of the past come alive as you unravel the mysteries of this extraordinary underground city.
Your Travel Journey Starts Here
Sign up and we'll send the best deals to you